We're busy getting ready to lead the Client Attraction Summit in San Francisco tomorrow.
We are expecting a room full of amazing people who are flying in from all over the US, Canada and the UK to be here…
And truthfully, our energy is pulled toward how to make this event life-changing, powerful and as awesome as possible.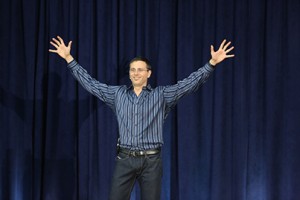 When it was time for writing the weekly email and blog post, we realized we didn't really have the time, and honestly didn't want to with everything we have going on.  (Please don't take that personally, LOL.)
"Should we skip the blog post this week," I (Jesse) asked Sharla. 
"Definitely," we both agreed.  But we both knew how important it is that we keep our commitment to send you a valuable article or video every Thursday.  
So we asked ourselves one question that makes this whole thing fun, easy and doable...  
It is a life-changing, paradigm-shifting question that we've asked ourselves hundreds of times and really is at the heart of our success.  This question allows us to stay consistent, when most people would give up.  
This quote is one we took to heart many years ago:
"Successful people ask better questions, and as a result, they get better answers."
- Tony Robbins
"What is this life-changing question?" you ask…
"How can this be easy?"
We asked ourselves, "How can it be easy to both keep our commitment to providing value every Thursday, without draining ourselves or taking up too much time?"
So, when we asked ourselves the question, this short and hopefully highly valuable blog post idea came to us.
What would be possible for you if you asked the question "How can this be easy?" anytime you were overwhelmed, frustrated or just didn't want to do something and were thinking of breaking your commitment?  
That's it!  How's that for an easy article?
We'd love to hear from you in the comments below.  
Let us know what you think!