In July, we flew to Sedona for Eben Pagan's invitation-only event called MetaMind, with some of the biggest leaders in the fields of coaching, technology, and art. 
When Eben personally asked me (Jesse) to speak to this group of leaders about leadership, I was incredibly honored… and a bit nervous.
Within an hour of arriving, I was blown away by the caliber of the attendees.  One man had written a #1 NY Times Best Seller that had changed my life. Another had built and sold over 20 companies.  Another was one of the most well-known speakers in the UK.  And even the founder of CouchSurfing.com was there.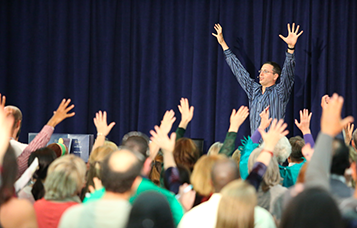 As I prepared to speak, I couldn't sit still.  I was sweating profusely.  
Okay... I was terrified. 
"What do I have to teach these people about leadership?" I thought to myself.  
But then it hit me... I wasn't actually teaching leadership.  
  
Eben had asked me to teach a very specialized skill called "how to create a community of leaders."  
While everyone in this group was a leader, very few of them had created a community of leaders. 
And this is something we have become known for...the Thrive Community IS a community of leaders.  
Many leaders in the coaching industry today (including many people who were invited to MetaMind) had their first 6-figure year after attending our Client Attraction Summit and joining the Thrive Community. 
Suddenly I realized, "I DO have something important to say!" 
Hot Tip: If you ever don't think what you have to say is valuable, ask yourself: "What specialized skills do I have, that I have discovered from my hard-won experience?"
At the end of my talk, I was greeted with rousing applause... and over the two days following my talk, dozens of people approached me, sharing how helpful and inspiring my talk was for them.

In my talk, I shared 3 keys to Creating a Community of Leaders.
In today's blog post, you'll discover the first key. 
Key #1: Create a Fun Game for Your Clients to Play
There was a study found that 72.3% of the people who bought home study courses (many cost as much as $2,000) DID NOT EVEN OPEN their Home Study Course and begin their program.
We had heard about another study that showed that only 2% of seminar participants actually get results. 
We knew we couldn't live with ourselves if we were teaching our best stuff, but our clients weren't getting results.  
We imagine you feel the same way about wanting your clients to get great results.
But you can't create a community of leaders if hardly anyone in the community is getting results.
So what is the best way to help your clients create results?
Create a Fun Game for Your Clients to Play
A game?  I thought getting clients was supposed to be serious!!!  
Yes, a game! ☺ You may want to consider creating a fun game for your clients to get results. 
Here's an example of how our game works:
Our programs include two live events (3 days each) that are 1 month apart.  
For example, in our last Client Attraction Mastery program, we had a 3-day live event at the end of July and another 3-day live event at the end of August.

At the Launch Event in July, we shared some incredibly powerful Client Attraction secrets and strategies.
Then we invited them into a friendly game over the next month where they got points for all of the actions they took to attract clients.
One month later, at the 2nd 3-day Event, they added up all the points they got.  
The Top 10 Winners were recognized for their achievement.    
What was most inspiring was that nearly everyone in the group played the game (even the people who hated games and even the ones who were terrified of having Heartselling™ Conversations).
Over the month, we had front row seats to the game.  On our members-only Facebook group, people shared victories, asked for encouragement, requested feedback, and received a ton of support.  
Even though there was some "competition" to be in the top 10, our group of coaches and holistic practitioners championed each other to the very end. 
Here are the results:

The group of 56 people brought in $387,816 in new business in the month between the first and second event.
The average person brought in $6,925, which is more than the investment in the year-long 
Client Attraction Mastery Program.  
The average person had 12 Heartselling™ Conversations (less than 3 per week).
The average Heartselling Conversation brought in $564.51 in sales.
20% of the group made $10,000 or more.
34% of the group made $5,000 or more.
54% of the group made $2,000 or more.
84% of the group made at least some money.
Hopefully, this inspires you to create your own games for your clients, so that your clients step into the leaders they were meant to become.
(I'll share the other two keys in upcoming articles.)
Leave us a comment below and tell us what you think...